Carewell SEIU 503 Kaiser Permanente Dental – Digital Communication Tool
You may receive a text message on your mobile device from Carewell Kaiser Permanente Dental that looks like this.
This is not a scam! We want to make sure everyone knows about their dental benefit, so we're trying this new way of communicating by text to make all info about your Carewell Kaiser Permanente Dental plan available at your fingertips!
What is it?
The message gives you the option of receiving ongoing text messages with individualized and specific benefit-related information.
When you receive the text, clicking on the link will open your own personalized feed with:
Updates and reminders about your dental plan; 

Information about how to find Kaiser Permanente Dental providers inside and outside the Kaiser Service area; 

Information about how to schedule appointments;

Info on how to get reimbursements;

Short educational messages about dental care.
There's no need to download an app so it's really easy to learn all about your dental benefit!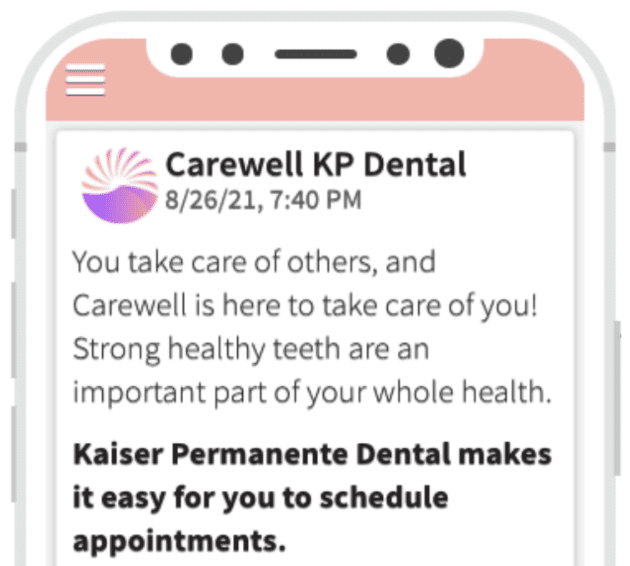 What can you expect?
At this point, we're only sending news and updates about your Carewell SEIU 503 Kaiser Permanente Dental benefit, and we're not using this channel to post information about other Carewell SEIU 503 benefits like PTO or Healthcare Cost Assistance. For information about all Carewell benefits, visit our website at CarewellSEIU503.org.
We promise we won't flood you with text messages! You can expect to receive 2-3 text messages a month. And we're never going to ask for personal information (like your Social Security number) through this channel. 
Are the text messages secure and can you opt out in the future?
Yes, the digital communication tool is secure and easy to use; no app or download is required and you may opt out at any time. To ensure your information is kept safe, messages obtaining specific benefit related information will require you to create and enter a password. 
​​
Questions?
If you have any questions about our new digital communication tool, please contact us at 1-844-503-7348.