Are you ready to begin Refresher Training?
All homecare and personal support workers need to complete 12.5 hours of Refresher Training. You can get started today by registering below.
A new Oregon law requires all homecare and personal support workers and personal care attendants to complete 12.5 hours of training by March 31, 2022. Training for current workers takes place in two parts: an Online Refresher and a virtual Refresher Workshop.
Complete Refresher Training to receive a $200 stipend, and
for a limited time, be entered to win weekly and monthly prizes up to $1,000!
There's never been a better time to get trained! Not only does training help you be the best care provider you can be, you will also receive a $200 stipend for completing Refresher Training. Plus, for a limited time, Carewell is holding one monthly drawing for $1,000, and five weekly drawings for $300 each — $1,500 per week — for eligible workers who complete their Refresher Training.
New training requirements can be confusing, but Carewell is here to help make it simple! We want to help every single care provider take advantage of our free online, self-paced training in order to meet their training requirement. This really is the best time to start your training, so register today!
Refresher Training Flyer (PDF)  English, Spanish, Russian, Simplified Chinese, Vietnamese, Arabic, Somali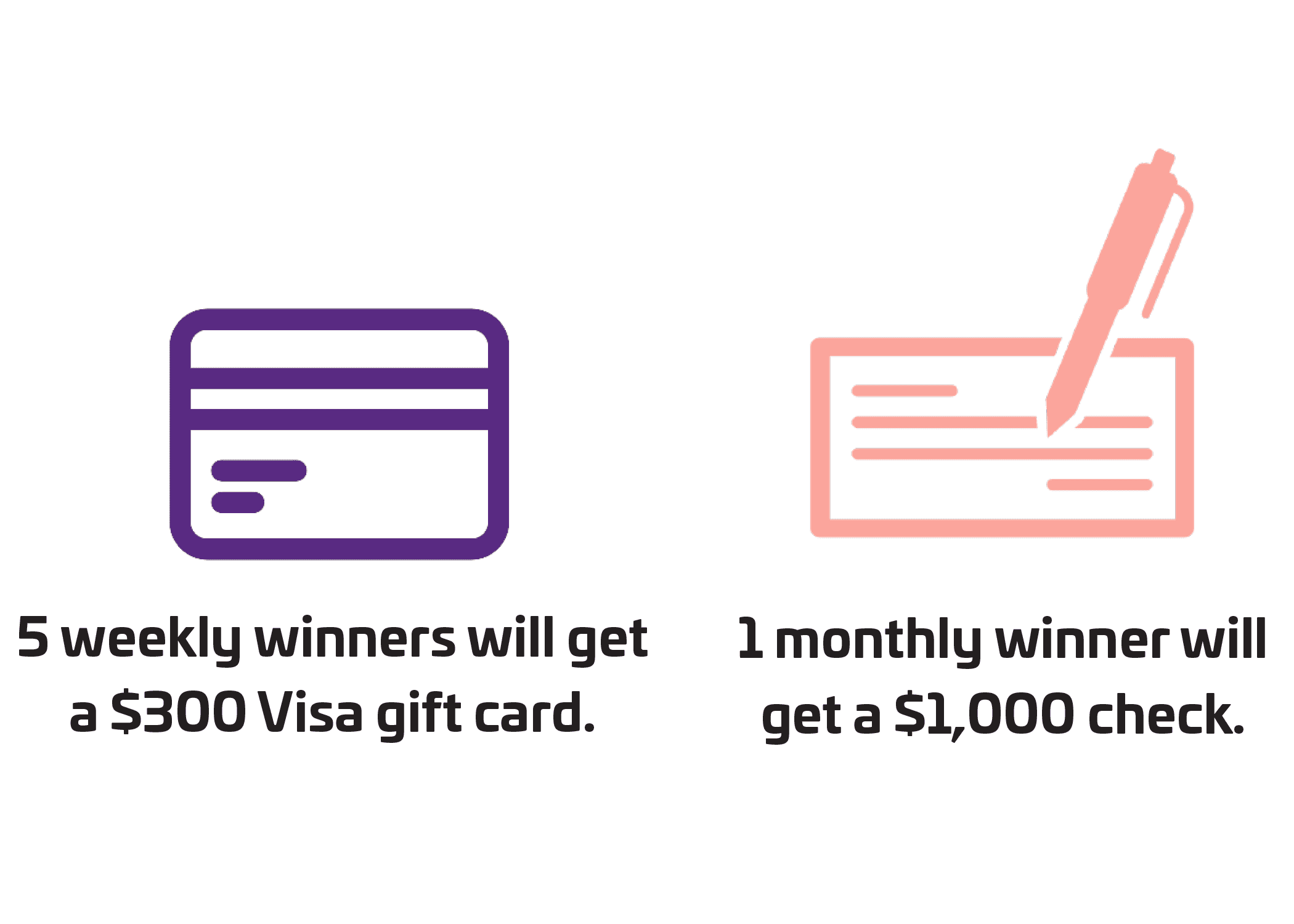 Training takes place in two parts:
When
Available February 1, 2021 to be completed by March 31, 2022
What Training Covers
Online Refresher reviews the foundations of providing safe, consumer-focused care and the rules for being a care provider. Selected topics include:
Person-centered services

Consumer rights and confidentiality

Providing in-scope services

Preventing Medicaid fraud

Care provider and consumer safety

Professional boundaries

Medication safety

Mandatory reporting and preventing abuse

Objective reporting

Promoting community involvement

Your benefits
Style
Online, *Live Webinar
*Temporarily offered online only. This course will eventually be in person. 
When
Available in March 2021 to be completed by March 31, 2022
What Training Covers
The Refresher Workshop focuses on strengthening communication and problem-solving skills and providing person-centered services. Topics include:
Person-centered services

Understanding communication styles

Building communication skills

Active listening

Compassion fatigue and burnout

Self-care
Do I have to pay for training?
No. The training is free to all homecare and personal support workers.
Will I be provided a stipend for training that I take?
You will be provided a stipend for time spent participating in required refresher training sessions. There is a $135 stipend for completing Online Refresher and a $65 stipend for completing Refresher Workshop.
How do I receive the stipend?
When you've successfully completed your first stipend-eligible course, you will receive via mail a Visa card loaded with your stipend.  To receive stipends in a timely manner, please confirm your mailing address and email address are up to date in your Carewell Learning Portal profile. Stipends are sent out twice per month, so it may take a couple weeks for the stipend to get to you. For more information, please see the Stipend Policy.
Prize Drawing Information
Who is eligible to be entered to win the weekly and monthly prize drawings?
All homecare workers,  personal support workers, and  personal care attendants who:
were issued a provider number prior to 9/1/2021,

are required to complete the 12.5-hour Carewell SEIU 503 Refresher Training series (participants who are exempt from training will not be eligible; take t

his questionnaire

to see if you are exempt or visit the

eligibility FAQs

)

have completed the series in its entirety, including any associated tests or surveys by the deadline listed on the prize drawing schedule,

and have not already won a prize drawing from Carewell SEIU 503 within the past 12 months.
What are the prizes?
For a limited time, Carewell Training will hold weekly prize drawings worth $1500—five prizes of $300 each—plus a monthly drawing for one prize of $1000.
Where can I learn more about the Refresher Training prize drawing?
How do I reset my password?
Go to the login page. From there, if you don't know your password, you can click "Forgot Password" which will email you a link to reset your password. If you don't see the reset password email right away, please check your spam folder.
What if I don't remember my username?
Your username should be your email address. Try logging in with that. If this doesn't work, call us at 844-503-7348 or email CarewellSEIU503training@RISEpartnership.com.
Are you ready to get started?
Click below to visit the Carewell Learning Portal and register for Refresher Training.