State-Required Refresher Training for Current Workers
Good news! SEIU 503 has worked with the state to extend the refresher training deadline to June 30.
We understand that when your profession is taking care of others, it can be hard to find time for training. Care providers have busy schedules. Carewell is here to support you to finish on time.
Key details:
The new refresher training deadline is June 30.
The training is in two parts, and it's all online.
You'll get $200 in stipends after you've completed it.
I've already registered for training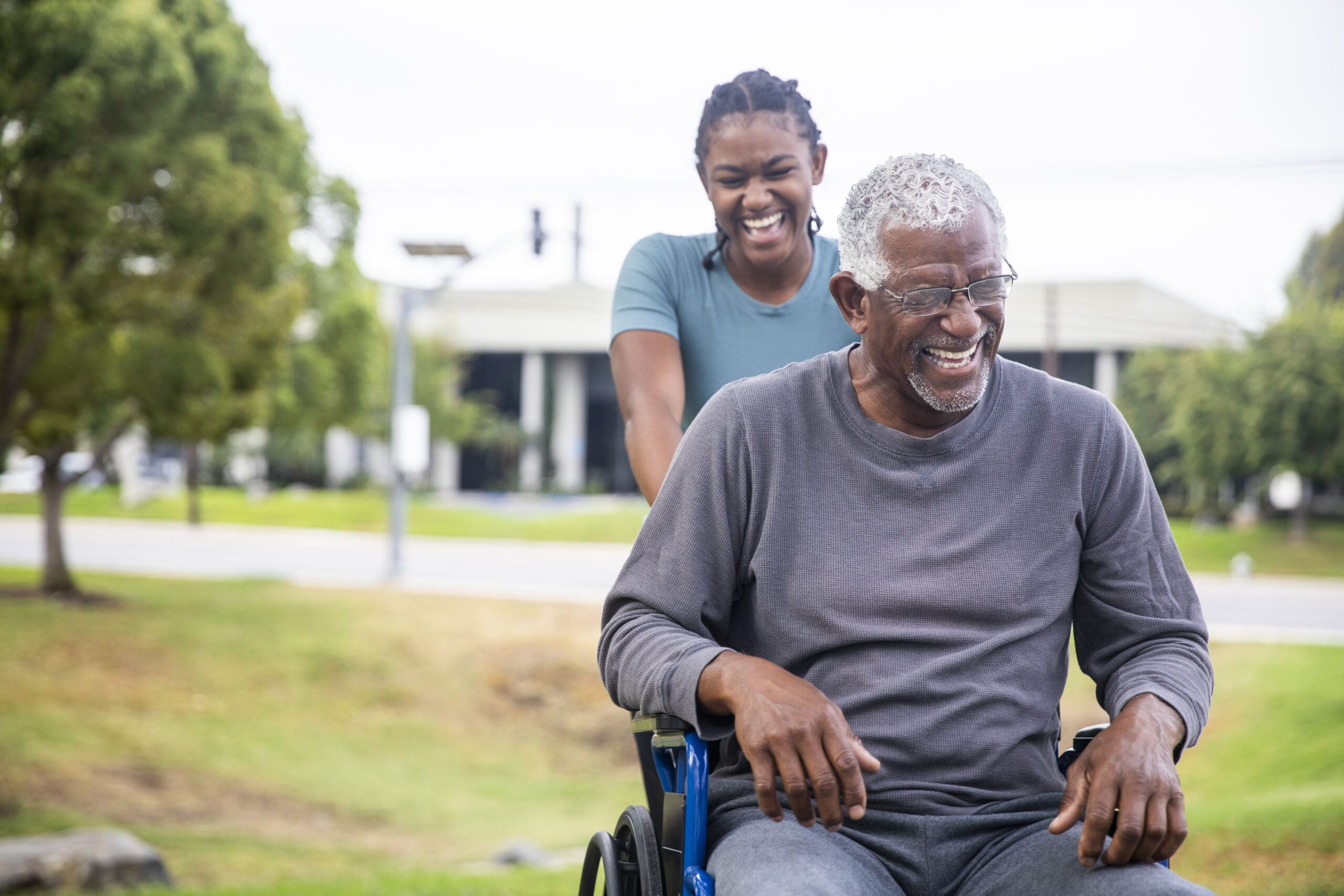 Take this quiz to see if you're required to take Refresher Training
Who needs to take Refresher Training? 
All homecare and personal support providers and personal care attandants who are paid through Medicaid or Oregon Project Independence are required to complete the Refresher Training. Some care providers may be exempt. See our FAQ to learn more.
What does the training look like?
Refresher Training includes 12.5 hours of learning, all online, and divided into two parts:
Part 1: Online Refresher
An 8-hour, self-directed online course that you can take when it's convenient for you. This course reviews the foundations of providing safe, consumer-focused care and the rules of being a care provider.
Part 2: Refresher Workshop
A 4.5-hour live workshop available online several times per week, including weekends. The workshop focuses on strengthening communication and problem-solving skills and providing services that center the needs of your consumer.
When does the training need to be completed?
Refresher Training must be completed by June 30, 2022, in order to keep your provider number. If you need support to take the training in a language other than English or with technology access, Carewell is here to help.
Learn valuable skills for your future
 Refresher Training helps strengthen your caregiving skills and manage day-to-day challenges with confidence.
Topics Include:
Person-centered services
Consumer rights and confidentiality
Providing in-scope services
Preventing Medicaid fraud
Care provider and consumer safety
Professional boundaries
Medication safety
Mandatory reporting and preventing abuse
Objective reporting
Promoting community involvement
Caregiver benefits
Understanding communication styles
Building communication skills
Active listening
Compassion fatigue and burnout
Self-care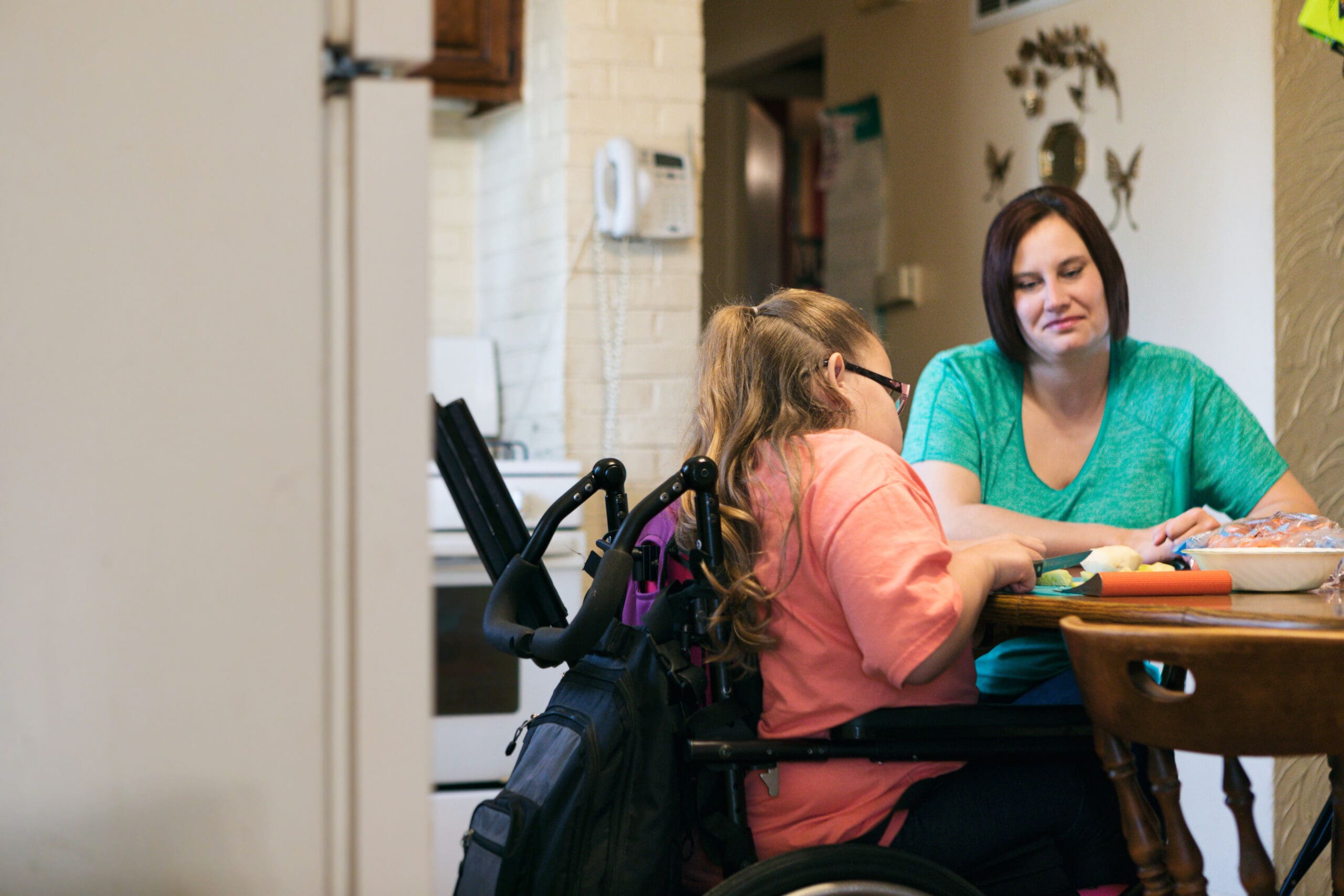 We're here to support you every step of the way
Training in multiple languages
Training is currently available in Arabic, simplified Chinese, English, Russian, Somali, Spanish, and Vietnamese. If you need support in another language, Carewell can schedule an interpreter for you.
Internet and device access
If your internet access is limited or you don't have access to a smartphone, tablet, or computer, we can help with access support or an offline version of the training. Please reach out to us so we can find an option that works best for you.
For support in completing refresher training, call us at 1-844-503-7348 or email us at carewellseiu503training@risepartnership.com.
Am I really done with training? How can I tell?
You are done with the training once you have completed Online Refresher, Refresher Workshop, and any surveys associated with each of them. You can check your completion status by logging in to the learning portal. Go to "my courses." If you have completed Refresher Training, you should see a green box that says "completed" underneath the courses "Online Refresher" and "Refresher Workshop." If either of those courses says "start" or "resume" in a purple or orange box underneath, you still need to complete that portion of the training. You may also see PTC training in your courses. This is not required.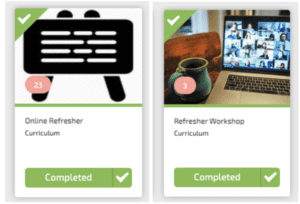 Once you finish each section of training, you should also have a certificate in the learning portal with your completion date. You can find certificates in the transcript section of the learning portal.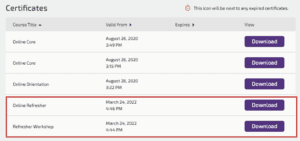 What happens if I didn't complete the training by March 31?
The refresher training deadline has been extended to June 30. You now have more time to finish. Make your plan to finish today.
What is the new deadline for refresher training?
The new deadline for refresher training is June 30, 2022.
What should I do if I receive a termination letter from the State? How can I keep my provider number?
If you receive a termination letter, you can request a hearing to appeal the decision. If you request a hearing and complete the training before the hearing, your provider number will remain active.  
Do I have to pay for training?
No. The training is free to all homecare and personal support workers.
Will I be provided a stipend for training that I take?
You will be provided a stipend for time spent participating in required refresher training sessions. There is a $135 stipend for completing Online Refresher and a $65 stipend for completing Refresher Workshop.
Please note that if you are exempt from the Refresher Training requirement, you are not eligible for a stipend.  For information on exemptions, please view the exemption FAQ.  
How do I receive the stipend?
When you've successfully completed your first stipend-eligible course, you will receive via mail a Visa card loaded with your stipend.  To receive stipends in a timely manner, please confirm your mailing address and email address are up to date in your Carewell Learning Portal profile. Stipends are sent out twice per month, so it may take a couple weeks for the stipend to get to you. For more information, please see the Stipend Policy.
Please note that if you are exempt from the Refresher Training requirement, you are not eligible for a stipend\.  For information on exemptions, please view the exemption FAQ.  
Login and Learning Portal Information
How do I reset my password?
Go to the login page. From there, if you don't know your password, you can click "Forgot Password" which will email you a link to reset your password. If you don't see the reset password email right away, please check your spam folder.
What if I don't remember my username?
Your username should be your email address. Try logging in with that. If this doesn't work, call us at 844-503-7348 or email CarewellSEIU503training@RISEpartnership.com.
I'm getting an error message or having an issue with the learning portal. What should I do?
If you are having a learning portal issue, such as an error message, blank loading screen, audio issues, etc., here are some steps for you to try. 
Check your internet connection.

Clear cookies on browser. If you aren't sure how to do that, google how to clear cookies on

browser.

Restart your device (laptop, desktop, tablet, or phone).

Try a new browser (Google Chrome, Mozilla Firefox, Microsoft Edge, Apple Safari) – Note: the training portal doesn't work too well with Apple Safari.

Close other tabs and programs while working in the learning portal.

Email us and we can provide support. Please include the following information if you reach out to our support team:

What device are you using? (computer, cell phone, tablet)

What browser are you using? (Google Chrome, Mozilla Firefox, Microsoft Edge, Apple Safari)

What issue are you having? (stuck module name, specific slides/activity/video, details about the issue, error message, audio issues)
Make a plan to finish as soon as you can.
Click below to visit the Carewell Learning Portal and log back in to Refresher Training.