State-Required Refresher Training for Current Workers
The refresher training deadline has passed.
The deadline for state-required refresher training was June 30. If you've already registered for training, you can log in to view your progress in the learning portal below.
If you did not register for refresher training and still need to take it, please reach out to the Member Assistance Center by phone at 1-844-503-7348 or by email at CarewellSEIU503Training@RISEpartnership.com.
I've already registered for training
Am I really done with training? How can I tell?
You are done with the training once you have completed Online Refresher, Refresher Workshop, and any surveys associated with each of them. You can check your completion status by logging in to the learning portal. Go to "my courses." If you have completed Refresher Training, you should see a green box that says "completed" underneath the courses "Online Refresher" and "Refresher Workshop." If either of those courses says "start" or "resume" in a purple or orange box underneath, you still need to complete that portion of the training. You may also see PTC training in your courses. This is not required.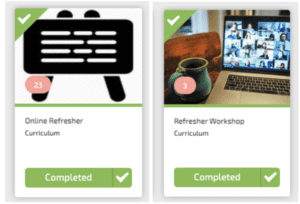 Once you finish each section of training, you should also have a certificate in the learning portal with your completion date. You can find certificates in the transcript section of the learning portal.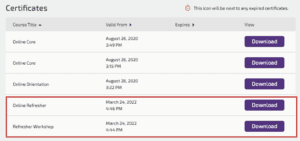 What happens if I didn't complete the training by June 30?
You can keep going. Although the deadline has passed, Carewell is still making the training available so you can finish up. If you receive a termination notice from the state, you can request a hearing. If you finish refresher training before the hearing date, you will keep your provider number.
What should I do if I receive a termination letter from the state? How can I keep my provider number?
If you receive a termination letter, you can request a hearing to appeal the decision. If you request a hearing and complete the training before the hearing, your provider number will remain active.  
Login and Learning Portal Information
How do I reset my password?
Go to the login page. From there, if you don't know your password, you can click "Forgot Password" which will email you a link to reset your password. If you don't see the reset password email right away, please check your spam folder.
What if I don't remember my username?
Your username should be your email address. Try logging in with that. If this doesn't work, call us at 844-503-7348 or email CarewellSEIU503training@RISEpartnership.com.
I'm getting an error message or having an issue with the learning portal. What should I do?
If you are having a learning portal issue, such as an error message, blank loading screen, audio issues, etc., here are some steps for you to try. 
Check your internet connection.

Clear cookies on browser. If you aren't sure how to do that, google how to clear cookies on

browser.

Restart your device (laptop, desktop, tablet, or phone).

Try a new browser (Google Chrome, Mozilla Firefox, Microsoft Edge, Apple Safari) – Note: the training portal doesn't work too well with Apple Safari.

Close other tabs and programs while working in the learning portal.

Email us and we can provide support. Please include the following information if you reach out to our support team:

What device are you using? (computer, cell phone, tablet)

What browser are you using? (Google Chrome, Mozilla Firefox, Microsoft Edge, Apple Safari)

What issue are you having? (stuck module name, specific slides/activity/video, details about the issue, error message, audio issues)